10 Best Rap Name Generators
If you are looking for the best rap name generators you are in the right place. Because you are looking for a rap name generator  I take it that you are currently looking for the best perfect rap name to along with your brand, right? If so, finding a rap name on a rap generator might be a great option to help with the overwhelming process of finding the perfect name. Let's cover what rap is first;
Rap is about rhythm, rhyming, and freestyling. Rap music can be generalized as modern poetry, to ebb and flow with the time, to change your beat to the sound of the music. Rap music and Rappers were born to stand out from other genres in terms of skill and their rap name(s).
The tag or nicknames of a rapper characterizes their work perfectly. Someone is worried about double rhymes and charges his pseudonym with secret meanings while someone creates sound and soulfulness. You don't have to listen to a rapper's songs at times: read the nickname only once, and the entire essence of their music will be revealed to you. It is always interesting to know about your favorite artist, the words of his songs, and facts from his creative life.
To be a rapper is to build a brand and a brand starts with a name. Marshall Bruce Mathers III sounds like a rich kid, but Eminem sounds like a rapper. So, before you swim the murky waters of the chaotic rap scene, you will need a distinguished name to help you stand out from the sea of mundane and the normies. 
You could go with the classic rap names. The Ices and the Drs for your rap name, or go with Lil or try to become the next Eminem, Cardi B, or Drake, or you could save yourself a lot of headache and pain by using a Rap Name Generator. Using a Name Generator is easy and straightforward. Don't give in till you try it. This article introduces to you some of the best Rap Name Generators that the world has offered to us;
Best Rap Name Generators
Finding the perfect rap name has become super popular in the music industry because you want to make sure you find the best name. There have been so many MCs throughout hip hop history now that rappers have put a number, a division sign, or even an emoji in their names for it to seem original. Many people might argue that a proper rap name today is Lil and the last thing you ate or saw, but all these stories can be left behind if you choose to use one of these Rap Name Generators.
1. Rapper Name-Generator
One o the best rap name generator is Rapper Name- Generator. This is the first rap name generator that google spits out. The website prides itself on generating interesting rap names. The name that the website generates is based on a series of questions that you will need to answer personally. The questions will include; 
1. Your favorite TV character
2. Your real-life first name
3. Your real-life last name
4. The name of a criminal
5. Something delightful (e.g., flowers, kittens)
6. An adjective to describe you or your music
7. The name of your favorite childhood pet
You could answer the question honestly or go the quirky route by answering the question with arcane trivia. Rapper Name Generator may not be the best Rap name generator, but it gives out some bizarre, exotic names that are out there. The name is created for you to stand out in your character, as mentioned earlier.
One advantage of using this Rap Name Generator is that you will get multiple name options to choose from. There is no guarantee that you will love all these names generated, but on the brighter side, you will get an idea of what your Rap name should be like.
2. MyRapName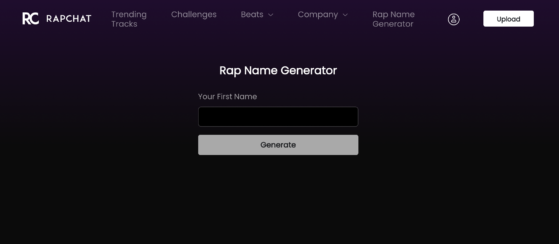 My Rap Name is pretty to use and available freely for everyone. You need to input before you can generate your Rap Name is only your first name and first initial of your last name, then you are good to go.
MyRapName is a trustworthy assistant. Its simplicity and ability to quickly provide results are just recommendable. As a Rapper looking to make your creative journey simpler from the start, this is an excellent place for you. An added advantage of using this site to create your rap name is; the more you alter the initials of your last name by adding or subtracting a letter, you generate a new rap name option each time. 
3. WuTang Clan Name Generator 

This Rap Name Generator is famous for the fact that renowned rapper Austin Richard Post aka. "Post Malone" revealed that he used it at the beginning of his career to acquire his rap name. American entertainer Childish Gambino born Donald Glover has also mentioned that his rap name originates from the Wu-Tang Name Generator in one of his interviews. 
This website is simple and easy to use. You just type in your name, and the website gives you a rap name. Compared to other Rap Name Generators, this option doesn't give you a wide range of options to choose from, but you can rely on the already recorded success of prominent rappers that have gained from it.
4. Flocabulary 

Another awesome rap name generator is Flocabulary! Flocabulary offers an opportunity to create your rap name by letting you choose a mix of synonyms, nouns, and prefixes. Once you input all the necessary information you desire to be processed, the website takes care of the rest. 
In the league of Best Rap Name Generators, flocabulary is very quirky and funny. Some of the options availed might be insane and unreasonable, but once you vet these out carefully, you might land on diamond hiding somewhere along with the crazy possibilities. The advantage of Flocabulary is that you have enough options to make a choice from.
5. Thestoryshack
The story shack is not a rap name generator in the truest sense of the word. The website is geared towards story writers rather than fledgling rap artists. It offers a more cultured and a more nuanced approach to rap names.
On the other hand, this name generator can be beneficial because of its rich database and multiple categories like; Fantasy name generators, Real name generators, Sci-fi name generators, Fan Fiction name generators, to mention just mention a few. All the rap names are just a click of the button away. You don't need to provide the website with anything; just keep clicking until you come to a rap name you like.
The advantage of using thestoryshack.com for your Rap name quest is that you are not limited in terms of personality. You can choose to use the animal name generator to come up with something that will work for you.
6. Rap Chat  
RapChat is a windfall of a name generator. The website only asks for your name, but in return, it gives a series of strikingly unique rap names. While some of the rap names might be too cheesy for you, only the future can tell where your brand would be with some of these names. 
The name generator is a bit of a hit and miss, but it might give out a couple of really solid rap names like "Steve the Poet," "Cheeky Steve da Boss," or "Baby Steve Scallopz" for every entry. Rapchat is reliable for rappers looking to find a quick solution to their name quest. The generator also has an application that will provide you with more cool offers for your growing brand as a rapper. 
7. BrainFall 
BrainFall is more akin to a BuzzFeed quiz than a rap name generator. The website starts you up with a series of questions, 10 to be exact. It asks for your favorite rapper, your favorite suffix, your favorite prefix, etc. After what seems like an eternity of questions, the website lists a total of 4 rap names. 
Brainfall tries to cover its bases when generating rap names. It will give you a solid choice, a funny choice, an edgy choice, and a simple choice. One of these four choices should best describe your personality or what you like. The advantage of using this Rap Name Generator is that you can always alter the answers to the questions asked to have a pool of names to choose from at the end of the day.
8. Music Industry How To Rap Name Generator 
This Rap Name Generator is as simple as it sounds. You have to push a button, and the website will give you a rap name. Additionally, there is a pool of rap names listed on the website from which you can readily choose a rap name. In case you don't like any of the names listed or generated, you are free to click on the "Generate Rap Name" button a second time or even a third time, and another name will come up.
The advantage of the rap name generator is the fact that there is a wide choice provided. However, it is advised to choose at least 3 – 5 names you like from here, then do a google search to see that none of the names has been used already. Another option would be to modify the name suggested to you. 
9. Recording History
Recording History only asks for one specific keyword, which could be anything from as simple as a beach or as unique as your name. Once you have input the keyword, the website will generate for you your new rap name. While the names generated by the website may not be to everyone's liking, you can as well create a rap name from particularly any word. Want a rap name based on the Eiffel tower? Well, then say hello to "Big Man Eiffel tower G."
With this name generator, a rapper is able to create his name based on his actual character, thoughts, and hobbies. This can be interesting for fresh talents or even for prominent rappers that are looking at making a complete turnaround.
10. Generatormix
GeneratorMix is a random name generator that will allow you to enter optionally enter your name and it will give you up to 50 random name ideas. All you need to do is push a button, and the website will throw a bunch of rap name ideas in your face. The advantage that comes with using GeneratorMix is that the generator will give you a whole list of options at your disposal. You will just need to select the one rap name of your preferred choice and change it to your liking.
Some of the names in the generator could be already very similar to some already existing rap names; hence you have to be careful with your final decision. One recommendation would be to extensively search on the internet to be sure that the name of your choice has never been used.
Final Thoughts On Best Rap Name Generators 
For any rapper out there trying to launch their career, the beginning is always hard compared to the actual journey. One thing to have in mind is, that hardly any rapper today performs under his real name. In order to protect their bourgeois identity, most hip-hop stars rely on stage names.
Just to mention, not every rap name created will shine out; some rap names shine more than others. This is attributed to your talent, branding, and marketing strategies. Finding the perfect rap name does not guarantee a lucrative rap future but can be a step into the future. For every Eminem, there are the forgotten Lils and Ices.
Your rap name for the longest part of your career will always be your identity. There are so many rappers today whose actual birth names are not known to the world as yet. A good rap name is more like finding a unicorn. You have to be creative and intelligent to come up with one that will best represent you for the rest of your life. This is where the Best Rap Name Generators come in.
Rap name generators might not be the place to give you a much unique rap name, but they are an excellent place to start. At least you will be presented with a bunch of rap names and other rap name ideas. There might be no other proper way to select a rap name other than using one of the Rap Name generators. These are not designed to be perfect, but for you, they will offer a solution. Try any of these and get a rap name today.
FAQ
What is a good rap name?
A good rap name is one that you are confident about and one that you fit in with your style. Take some time and really think about how you want to be remembered and writer out names that reflect that. 
How do you pick a rap name?
Take some time and write out all things that you want to be remembered by and write those words out a sheet of paper. You can also use a Rap name generator similar to the ones in this posts to help you get started. 
What is a good unused rap name?
To find to a good unused rap name use the rap Generators in this post to give you some ideas. Once you have some ideas narrow down your selection and pick the one that fits you the best. 
What are weird rapper names?
Weird rapper names often come up but the weird is different for everyone. Click here to see a list of the weirdest rappers names to date.